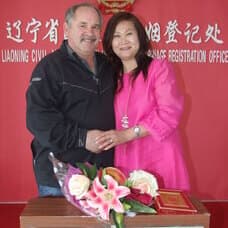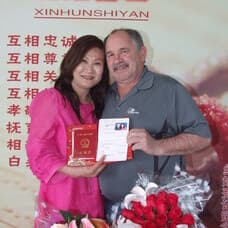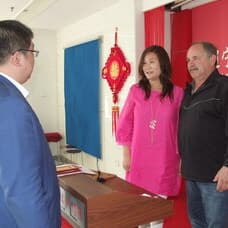 Jing Zhao and Bill
Dear Dating.com,
It is my greatest pleasure to write this letter, as a witness of the love story between me and my wonderful husband Bill. I sincerely wish to share the joy and
happiness of our happy and loving marriage with you and those thousands of other members looking for their love here at Dating.com.
We firstly came to know each other at the beginning of this year. Now I still vividly remember the day of the 4th, Feb, 2014, when Bill flew to Shenyang to see me for the first time, after we communicated back and forth on Dating.com for some time. It was during the Spring Festival/Chinese New Year, and Bill came over for us meet in despite the cold winter here. I went to the airport to pick him up and later I invited Bill to my home, where he also met my father, my son's family. All my family liked him a lot, and we had a wonderful Chinese New Year together....
When Bill went back to the USA, we missed each other a lot. We kept communication through Dating.com and even though we are oceans apart, this really helped our relationship grow every passing day... We both felt we are the right one for each other and we felt we needed to get together again soon. By the second time Bill visited in April, my son drove all my family to the airport to pick him up, and we had a wonderful catch-up together. Then we decided to make our relationship permanent, so we went to the USA Consulate in Shenyang for Bill getting his Single Status Clearance, and then we went to Liaoning Civil Affairs Bureau and got marriage registration there on 10th April. Now Bill is back in USA again, and we already had lawyer helped us submit all the paperwork to the USA government for marriage visa application...
I really want to thank Dating.com and all the staff for the great service you provided which built a bridge connecting Bill and me together. I sincerely wish Dating.com to make bigger progress in the future and help more and more people finding their Mr./Mrs. Right.
Many thanks and best regards,
Jing Zhao