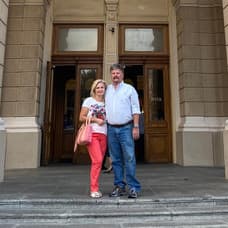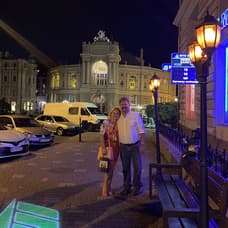 Tanya and Roberto
Good day,
My name is Tanya and I want to tell my story of acquaintance with a great person, friend, interesting companion and just a person with a wonderful soul - Roberto. We chatted and had a lot of exciting conversations. One day I told him "Come to my city, I will show you a magic piece of my culture, and I will show you a small, but very beautiful city". And my Roberto took a decision to make that decisive step.
I met Roberto in the airport. It was very pleasant to see a person whom I was talking to so much via the computer camera only. We spent an amazing time together, visited a lot of interesting places - Opera Theatre, sea, took a ride on a motorboat, had a picnic, also tasted the national meal of our hospitable country. We knew a lot of new, important things about each other, we are great friends and continue to correspond. Roberto is a man with perfect manners and education, his children are very cute.
I have never regretted that I registered on Dating.com because it gave me the opportunity to meet such a wonderful person! It is possible to find a friend, love, new fantastic emotions no matter how old you are. I would like to address all the people who are looking for love, happiness, communication and attention - Dating.com helps to connect the souls.